Unspent Love (YYZ Artists' Outlet)
Originally drawn and written as a series of online vignettes for the comics publisher Top Shelf Productions, Unspent Love addresses themes such as hope, fear, and human frailty. The project was later produced as a multi-media bookwork with the support of Open Studio's Nick Novak Scholarship (2010).
A third iteration at YYZ evolved the project in a series of narrative images, which unfolded between November 2010 and October 2011 as part of its YYZUNLIMITED program. The experimental space of the wall allowed imaginative storytelling possibilities to develop through layering, time-lapse animation and wheat pasting.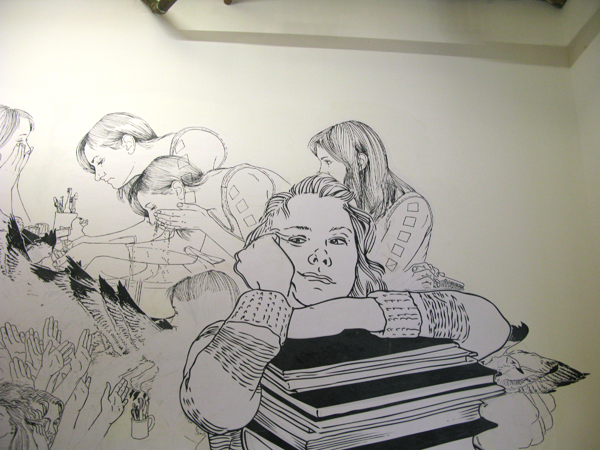 Unspent Love (Open Studio)
Part of the Nick Novak Scholarship at Open Studio was a solo exhibition. Since people have such a one-to-one relationship with book arts, exhibition presents a challenge-- how do you show the content of an artist's book in a gallery context? This wheatpaste on the walls started as a response to that challenge and opened up an entire world of possibilities-- moving my practice forward into installation and, ultimately, performance and animation.
Blood & Thunder
While striking the Nick Novak installation at Open Studio, these moments of play suggested exciting new possibilities for performance and overlapped with research I was already doing about the history and mechanics of puppetry.
Pink Pearl
Print Media is often characterized by a material emphasis on subtraction and addition. As a dug hole is mirrored by the mound of dirt it unearths, any removal of material from the surface of a print matrix implies an accumulation elsewhere. What meaning can be found in those liminal spaces between minus and plus? Works in this group show, PINK PEARL at the Gladstone Hotel moved past surface engagements with etched plates, burned screens, grained stones, carved wood and cut paper to explore concepts of erasure and transcendence. Using print as a primary strategy, artists in PINK PEARL created 2-dimensional works on paper, artists' books, material arts, sculpture and animation.
Wheatpaste?!
Hm, weird. Who could have done this?